By default, each logged-in user has a "My CaseFolder" view that contains CaseFolders for all cases he or she bookmarked, accessed from Pacer, or receives ECF emails on. Depending on your subscription level, you may be able to access additional views, all of which are explained below. To access a particular view, simply click on the appropriate tab as shown below: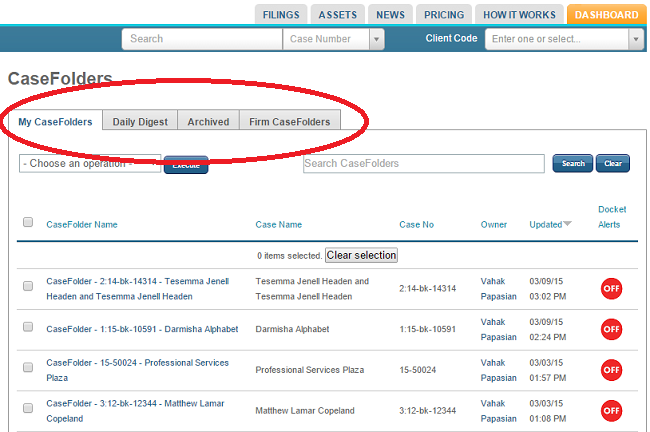 My CaseFolders
To quickly find the CaseFolder you want, use the Search CaseFolder box across from the actions box (near the top of the tab you're on). You can also sort your CaseFolders by clicking the column headings. Once you find the CaseFolder you want, just click on the name to access the docket and other case information.
The My CaseFolders view also lets you do any of the following by checking the box to the left of any CaseFolder, selecting an action from the drop-down menu, and clicking "Execute":
Archive a case to remove it from your Active view.
Delete the CaseFolder permanently
Download all pleadings in your account for a given case all at once
Daily Digest
This is a summary view of all
your
CaseFolders (not the Firm CaseFolders) that have a new docket entry since a chosen date. The default is the last 24 hours, but can be modified by entering a new date and clicking search. This tab also features a search box to quickly find keywords. Thus you can check if an objections were filed on any of your cases in the last 24 hours for example.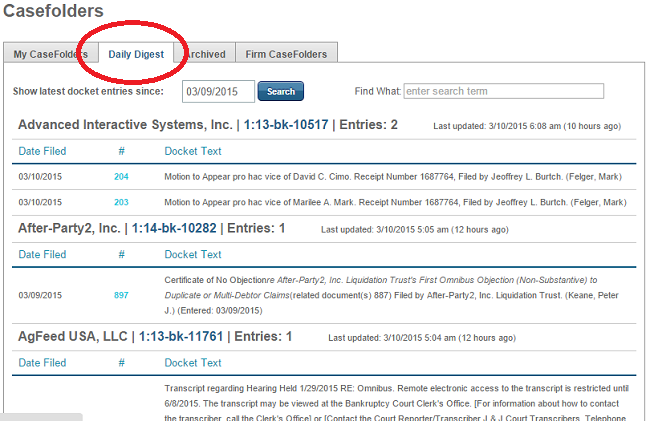 Archived
The Archived tab allows you to store older cases and remove them from your My CaseFolders view. To archive a CaseFolder, select the checkbox next to the CaseFolder and then select Archive from the dropdown box near the top. Then click the execute button.
Firm CaseFolders
The Firm tab is a summary of an entire firm's cases. It shows the original owner of the CaseFolder. Through this tab, anyone in the firm (paralegal, staff, attorney) can access any case that another member in the firm has in their own My CaseFolders view. This is essentially a shared network drive for the entire firm that automatically aggregates all cases for everyone in the firm. You can search the Firm view the same as the My CaseFolders view.